Contribution of streambanks to phosphorus export from Iowa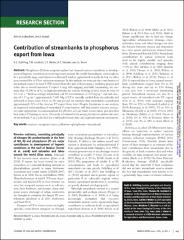 Organizational Units
Iowa Nutrient Research Center
The Iowa Nutrient Research Center was established to pursue science-based approaches to evaluating the performance of current and emerging nutrient management practices and providing recommendations on practice implementation and development. Publications in this digital repository are products of INRC-funded research. The INRC is headquartered at Iowa State University and operates in collaboration with the University of Iowa and the University of Northern Iowa. Additional project information is available at: https://www.cals.iastate.edu/inrc/
Department
Natural Resource Ecology and Management
Iowa Nutrient Research Center
Abstract
Phosphorus (P) from nonpoint upland and channel sources contributes to development of hypoxic conditions in receiving waters around the world. Streambanks are thought to be a potentially large contributor to sediment P loads in agricultural watersheds, but are often unaccounted for in P loss reduction strategies. In this analysis, we estimate the contribution of streambank sources to total P (TP) export from the state of Iowa using a multistep process and relate this to overall statewide P export. Using GIS mapping and field monitoring, we estimate that 35,200 m of 3.2 m high streambanks are actively eroding in Iowa rivers at a rate of 12.4 cm y–1. With an average streambank soil TP concentration of 470 mg kg–1 and bulk density of 1.17 g cm–3, approximately 7,681 Mg of TP is annually eroded from streambanks and delivered to Iowa rivers. Over an 18-year period, we estimate that streambanks contributed approximately 31% of the riverine TP export from Iowa. Despite limitations in our analysis, an improved understanding of streambank P contributions will help natural resource managers make appropriate recommendations for effective soil and water conservation practices that best reduce P loading to rivers. Our study is believed to be among the first to address the issue of streambank P at a scale that has confounded many state and regional nutrient assessments.
Comments
This article is published as Schilling, Keith E., Thomas M. Isenhart, Calvin F. Wolter, Matthew T. Streeter, and John L. Kovar. "Contribution of streambanks to phosphorus export from Iowa." Journal of Soil and Water Conservation 77, no. 2 (2022): 103-112. DOI: 10.2489/jswc.2022.00036.

Works produced by employees of the U.S. Government as part of their official duties are not copyrighted within the U.S. The content of this document is not copyrighted.
Keywords
erosion

,
nonpoint source pollution

,
phosphorus

,
streambank
Subject Categories
Collections