Retirement Savings Knowledge in the United States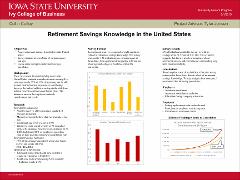 Series
Honors Projects and Posters
The Honors project is potentially the most valuable component of an Honors education. Typically Honors students choose to do their projects in their area of study, but some will pick a topic of interest unrelated to their major.
The Honors Program requires that the project be presented at a poster presentation event. Poster presentations are held each semester. Most students present during their senior year, but may do so earlier if their honors project has been completed.
This site presents project descriptions and selected posters for Honors projects completed since the Fall 2015 semester.
Abstract
Retirement savings is a topic that affects everyone in the United States regardless of career. Background research found that a large portion of individuals will not be able to maintain their standard of living in retirement. When surveying 67 Iowa State Students, research found that there was a lack of awareness on retirement savings. The survey included 8 questions and resulted in an average score of 34% correct. We find that retirement savings could be improved by employers enacting automatic enrollment and escalation in retirement plans and employees taking advantage of employer match programs and determining long-term needs earlier in their career. This paper serves as an educational tool for college-aged students that may help them think deeper about retirement savings when they begin their careers.
Collections