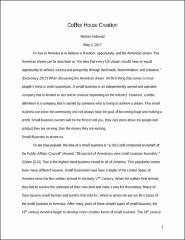 Series
Honors Projects and Posters
The Honors project is potentially the most valuable component of an Honors education. Typically Honors students choose to do their projects in their area of study, but some will pick a topic of interest unrelated to their major.
The Honors Program requires that the project be presented at a poster presentation event. Poster presentations are held each semester. Most students present during their senior year, but may do so earlier if their honors project has been completed.
This site presents project descriptions and selected posters for Honors projects completed since the Fall 2015 semester.
Abstract
This paper utilizes the lessons learned in all major introductory classes in the College of Business at Iowa State University to create a business plan for a new coffee house. The goal of the paper was to see if what I have learned in all my introductory major classes at the College of Business could help me build a small business. While at Iowa State every student in the College of Business is required to take an introductory class in all of the majors offered. The majors offered currently are Accounting, Finance, Management, Management Information Systems, Marketing, and Supply Chain Management. During the research phase I looked at notes and textbooks of past classes at Iowa State, as well as online resources. The project relied heavily on creativity because of the freedom that comes with building your own company. The finished business plan gives a background on the history of coffee, what I have learned from the College of Business, and how I applied the knowledge learned to open a new coffee house.
Subject Categories
Collections