StegFinder, A Forensic Tool to Detect Messages Hidden in Images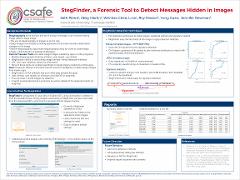 Publisher
Copyright 2021, The Authors.
Department
Center for Statistics and Applications in Forensic Evidence
Electrical and Computer Engineering
Abstract
• The use of steganography in images is on the rise. • Stego images are created by coding applications that make visually undetectable changes to the image. • Mobile steganography apps make steganography easy for users to create stego images, while detection is typically challenging. Current Freeware Tools can detect stego images created by apps or other programs • McAfee Steganography Defense initiative: web-based, very limited • StegExpose: limited to only bitmap image formats, limited detection methods • VSL: poor user interface, report not informative • None of these tools are created specifically to target stegos created by mobile apps. Goal: Create an efficient and useful forensic tool for investigators to detect stego images from mobile apps. • StegFinder is a GUI software that is an initial step towards this goal. • User friendly, runs reliably on Windows and MacOS (in progress). • It can process 1-5,000 images for detection. • A report is generated giving a summary as well as details of the analyzed results (in progress).
Comments
The following poster was presented at 2021 International Association for Identification (IAI). Posted with permission of CSAFE.
Collections