Notes on injurious insects.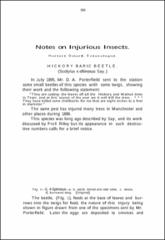 Department
Extension and Experiment Station Publications
Abstract
In July 1895, Mr. D. A. Porterfield sent to the station some small beetles of this species with some twigs, showing their work and the following statement:
"They are cutting the leaves off all the Hickory and Walnut trees in Traer, and at this season of the year am it will kill the trees. * * * They have killed some shellbarks for me that are eight inches to a foot in diameter."
The same pest has injured many trees in Manchester and other places during 1896.
This species was long ago described by Say, and its work discussed by Prof. Riley but its appearance in such destructive numbers calls for a brief notice.
Subject Categories
Collections