The effectiveness of linking instruction on NNS speech perception and production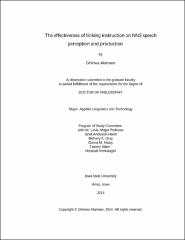 Abstract
Despite the prevalence of connected speech processes in spoken English and their importance for communication, there has been relatively little research on them in the field of second language learning. This study investigated the effectiveness of using two methods for teaching linking to NNSs of English. Audio-visual (AV) feedback, integrating both audio and electronic visual feedback, and audio-only (AO) feedback were employed in the development of online materials to help improve learners' perception and production of consonant-to-vowel linking such as 'give in' and vowel-to-vowel linking such as 'see it'. The long-term effectiveness of the instructional materials was also examined to see whether learners were able to retain improvement beyond the training period. In addition, the study explored whether improvement can transfer to novel contexts. The influence of high frequency and low frequency words on linking production was also investigated. Finally, students' perceptions of the use of AV and AO feedback were reported to guide future implementation of the materials.
Forty-five learners of English participated in the study with 15 students in each of the two experimental groups and the control group. A pretest, posttest and delayed posttest design was implemented to answer the research questions of the study. Students' dictation of old and new sentences and their audio recordings of two read texts were analyzed. Qualitative data consisted of students' answers to a post-training questionnaire.
Findings indicate that both types of training were effective in improving learners' perception and production of linking immediately and one month after training. Learners were also able to transfer the gained improvement to novel contexts. In addition, it was found that students' improvement of linking high frequency words was significantly greater than that of low frequency words, which were more difficult to link. The use of audio-visual training with waveforms resulted in better improvement in linking perception and production as well as more positive learner feedback than the audio-only training. The findings of the study hold a number of pedagogical implications for language teachers, material developers, and those interested in researching connected speech and the use of technology for language learning.
Subject Categories
Copyright
Wed Jan 01 00:00:00 UTC 2014
Collections