Book Review: The Drama of the Portrait: Theater and Visual Culture in Early Modern Spain (review)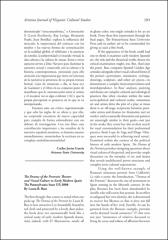 Department
World Languages and Cultures
Abstract
The first thought that comes to mind when one picks up The Drama of the Portrait by Laura R. Bass is how attractive it is: beautifully bound in red cloth and protected by a lovely dust jacket, the book does not automatically look like a critical study of early modern Spanish drama. And, indeed, with 67 illustrations, nearly all in glossy color, one might mistake it for an art book. From these first impressions through the final pages, The Pennsylvania State University Press and its author are to be commended for giving us such a fine book.
If the appearance of the book could lead one to think it examines early modern Spanish art, the title and the theatrical works chosen for critical examination might, too. But, that's just the point. Bass compares Spanish Golden Age comedias alongside other visual cultural forms of the period—portraiture, miniatures, etchings, drawings, sculpture, and other art pieces—to demonstrate a complex interconnectedness and interdependence. In Bass' analyses, painting and drama are complex cultural and ideological practices that often circulate within the same socio-political and cultural realm: sometimes art and artists drive the plot of a play, at times there is an off-stage reciprocity between particular artists and dramas (or dramatists and art works), and occasionally dramatists and painters are amazingly similar in their goals—not just in the works they create but also in their search for royal commendation for their professional practice (both Lope de Vega and Diego Velázquez were successful in achieving royal status). Examined within the context of the political history of early modern Spain, The Drama of the Portrait provokes intriguing questions about visual culture of the period, and provides ample discussion on the interplay of art and drama that reveals multifaceted power structures and complex socio-cultural expectations.
Comments
This book review is published as Gasta, C.M., The Drama of the Portrait: Theater and Visual Culture in Early Modern Spain. The Pennsylvania State UP, 2008. By Laura R. Bass. Arizona Journal of Hispanic Cultural Studies 13(2009).10.1353/hcs.0.0054 Posted with permission.
Subject Categories
Copyright
Thu Jan 01 00:00:00 UTC 2009
Collections