Designed to Include: A Pilot Study Offering Creative Design Solutions for People Living with Disabilities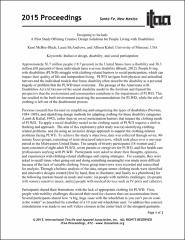 Series
International Textile and Apparel Association (ITAA) Annual Conference Proceedings
The first national meeting of textile and clothing professors took place in Madison, Wisconsin in June 1959. With a mission to advance excellence in education, scholarship and innovation, and their global applications, the International Textile and Apparel Association (ITAA) is a professional and educational association of scholars, educators, and students in the textile, apparel, and merchandising disciplines in higher education.
This site provides free, public access to the ITAA annual conference proceedings beginning in 2015. Previous proceedings can be found by following the "Additional ITAA Proceedings" link on the left sidebar of this page.
Abstract
People living with disabilities (PLWD) struggle with clothing-related barriers to social participation, which can impact their quality of life and independent living. PLWD navigate both physical and attitudinal barriers and the individual models that frame disability often describe the disability as a personal tragedy or problem that the PLWD must overcome. The aim of this exploratory pilot study was (a) identifying clothing-related problems, and (b) using an inclusive design approach to support the clothing-related problems facing PLWD.
Subject Categories
Collections