Research Notes : Estimates of variation and heritability for nodule mass and recovery of Rhizobium japonicum strain 110.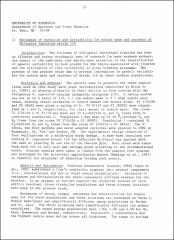 Department
Iowa State University Digital Repository
Abstract
Introduction: The increase of biological dinitrogen fixation has been an illusive and rather stochastic area of research for many soybean workers. One aspect of the symbiosis that merits more attention is the identification of genetic variability in host plants for the traits associated with fixation and the utilization of this variability in plant breeding programs. The purpose of the present study was to provide information on genetic variability for nodule mass and recovery of strain 110 in three soybean populations.
Subject Categories
Collections