Argyle Reimagined - A study in upcycling using piecing techniques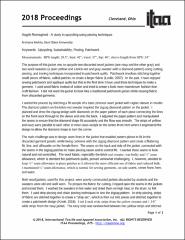 Series
International Textile and Apparel Association (ITAA) Annual Conference Proceedings
The first national meeting of textile and clothing professors took place in Madison, Wisconsin in June 1959. With a mission to advance excellence in education, scholarship and innovation, and their global applications, the International Textile and Apparel Association (ITAA) is a professional and educational association of scholars, educators, and students in the textile, apparel, and merchandising disciplines in higher education.
This site provides free, public access to the ITAA annual conference proceedings beginning in 2015. Previous proceedings can be found by following the "Additional ITAA Proceedings" link on the left sidebar of this page.
Abstract
The purpose of this project was to upcycle and transform discarded garments using techniques of cutting, piecing, and ironing incorporated in patchwork quilts. The main challenge was to design seam lines in the jacket that enabled pattern pieces to fit in the discarded garment panels, while creating a flattering fit, line, and silhouette on the female form. I used strip piecing and chain piecing techniques to cut and sew a zigzag diamond pattern. These techniques are perfect for upcycling because the fabric is just cut into strips of various widths. As this eliminates the need to fit new shapes into existing shapes for the purpose of upcycling, it enables effective use of fabric. The seams in the jacket connected with the seams in the zigzag patches to make piecing easier and to control fit. The resulting jacket does not resemble a traditional pieced and patched garment or an upcycled garment.
Subject Categories
Collections