An Investigation of Work-Related Risk Factors Among Sewing Machine Operators in Bangladesh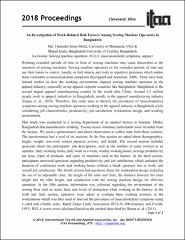 Authors
Islam Molla, Md. Tahmidul
Series
International Textile and Apparel Association (ITAA) Annual Conference Proceedings
The first national meeting of textile and clothing professors took place in Madison, Wisconsin in June 1959. With a mission to advance excellence in education, scholarship and innovation, and their global applications, the International Textile and Apparel Association (ITAA) is a professional and educational association of scholars, educators, and students in the textile, apparel, and merchandising disciplines in higher education.
This site provides free, public access to the ITAA annual conference proceedings beginning in 2015. Previous proceedings can be found by following the "Additional ITAA Proceedings" link on the left sidebar of this page.
Abstract
Working extended periods of time in front of sewing machines may cause discomfort to the operators of sewing machines. Sewing machine operators sit for extended periods of time and use their hands to control, handle, or feel objects and tools in repetitive processes which makes them vulnerable to musculoskeletal symptoms. Therefore, this study aims to identify the prevalence of musculoskeletal symptoms among sewing machine operators working in the apparel industry in Bangladesh while considering job characteristics, productivity, job satisfaction, workstation design, and working environment. The results showed that working in front of the sewing machines for a long period of time might cause musculoskeletal problems for the sewing machine operators in Bangladesh which is consistent with previous studies. Further, the environment of the sewing machine rooms, job characteristics, and workstation design were not satisfactory in some cases and might impact participants' health.
Subject Categories
Collections