What's Your Radiographic Diagnosis?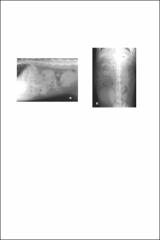 Department
Iowa State University Digital Repository
Abstract
A 4 year old, neutered male Domestic Shorthaired cat. Vomited a trichobezoar (hairball) and food 2 nights ago. Repeated episodes of vomiting yesterday. Vomitus consisted of a clear to yellow fluid. The cat is strictly an indoor pet, plus access to the garage. FeLV negative. Four months overdue for annual vaccinations.
Subject Categories
Collections