Who Are Social Entrepreneurs? Connecting the Stories of Women in the Global Textile and Apparel Industry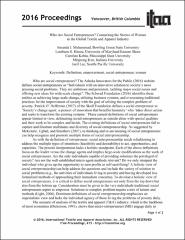 Series
International Textile and Apparel Association (ITAA) Annual Conference Proceedings
The first national meeting of textile and clothing professors took place in Madison, Wisconsin in June 1959. With a mission to advance excellence in education, scholarship and innovation, and their global applications, the International Textile and Apparel Association (ITAA) is a professional and educational association of scholars, educators, and students in the textile, apparel, and merchandising disciplines in higher education.
This site provides free, public access to the ITAA annual conference proceedings beginning in 2015. Previous proceedings can be found by following the "Additional ITAA Proceedings" link on the left sidebar of this page.
Abstract
Current definitions of social entrepreneurs appear limited in view, delineating social-entrepreneurs as outside elites with special qualities and their work to be complex and lavish. Definitions of social entrepreneurs fail to capture and illustrate the multitudes and diversity of social entrepreneurship. Thus, social entrepreneurship needs refashioning to address the multiple types of intentions (feasibility and desirability) to act, opportunities, and capacities. The present interpretation lacks a holistic standpoint. Using a scenario of analysis of the textile and apparel industry, it becomes evident that micro-entrepreneurs engage daily in solving the complex problem of poverty, unemployment, exploitation, and other social issues through self-employment. They are by their very nature practicing social entrepreneurship. The purpose of this concept paper is not to dispute current definitions of social entrepreneurs but to help make definitions more holistic, by recognizing the contributions of the multiple types of people and organization who attempt to solve societal concerns.
Collections