Cross-cultural study of obesity regarding socio-cultural attitudes on appearance involvement and appearance management behaviors through clothing: 20s-30s female plus-size consumers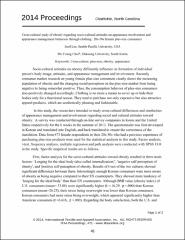 Series
International Textile and Apparel Association (ITAA) Annual Conference Proceedings
The first national meeting of textile and clothing professors took place in Madison, Wisconsin in June 1959. With a mission to advance excellence in education, scholarship and innovation, and their global applications, the International Textile and Apparel Association (ITAA) is a professional and educational association of scholars, educators, and students in the textile, apparel, and merchandising disciplines in higher education.
This site provides free, public access to the ITAA annual conference proceedings beginning in 2015. Previous proceedings can be found by following the "Additional ITAA Proceedings" link on the left sidebar of this page.
Abstract
Socio-cultural attitudes on obesity differently influence on formation of individual person's body image, attitudes, and appearance management and involvement. Recently consumer market research on young female plus-size consumers clearly shows the increasing population of obesity and the changing social perception on the plus-size market from being negative to being somewhat positive.
Subject Categories
Collections