Success is a Double-Edged Sword: Examining the Implications of Growth for Community-based Online Retailers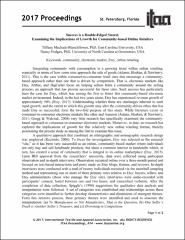 Series
International Textile and Apparel Association (ITAA) Annual Conference Proceedings
The first national meeting of textile and clothing professors took place in Madison, Wisconsin in June 1959. With a mission to advance excellence in education, scholarship and innovation, and their global applications, the International Textile and Apparel Association (ITAA) is a professional and educational association of scholars, educators, and students in the textile, apparel, and merchandising disciplines in higher education.
This site provides free, public access to the ITAA annual conference proceedings beginning in 2015. Previous proceedings can be found by following the "Additional ITAA Proceedings" link on the left sidebar of this page.
Abstract
Consumer-to-consumer retail sites like Etsy, Artfire, and BigCartel, have combined community with consumption to foster a market driven by community, rather than one that is driven by competition. While literature exists on consumer-to-consumer electronic markets like eBay and Amazon (Adams, Hosken, & Newberry, 2011; Gregg & Walczak, 2008) very little research has specifically examined the community-based approach to consumer-to-consumer electronic markets. Moreover, to date, no research has explored the implications of growth for this relatively new online retailing format. Therefore, this study sought to fill this gap with an ethnographic and netnographic investigation of the most successful online, community-based market, Etsy (Kozinets, 2006). From this investigation three themes emerged, shedding light on the growing pains associated with large-scale market growth of Etsy. Implications and conclusions drawn from this study sheds light on the challenges specific to the community-based approach to consumer-to-consumer electronic markets.
Subject Categories
Collections