Creating E-Textile Activities in a Textile Design Course to Engage Female Middle School Students in STEM Learning: An Undergraduate Design Experience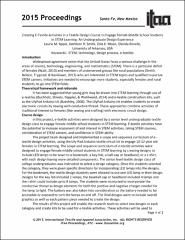 Series
International Textile and Apparel Association (ITAA) Annual Conference Proceedings
The first national meeting of textile and clothing professors took place in Madison, Wisconsin in June 1959. With a mission to advance excellence in education, scholarship and innovation, and their global applications, the International Textile and Apparel Association (ITAA) is a professional and educational association of scholars, educators, and students in the textile, apparel, and merchandising disciplines in higher education.
This site provides free, public access to the ITAA annual conference proceedings beginning in 2015. Previous proceedings can be found by following the "Additional ITAA Proceedings" link on the left sidebar of this page.
Abstract
Widespread agreement exists that the United States faces a serious challenge in the areas of science, technology, engineering, and mathematics (STEM). There is a particular deficit of females (Watt, 2010) and members of underserved groups like rural populations (Smith, Nelson, Trygstad, & Banilower, 2013) who are interested in STEM topics and qualified to pursue STEM careers. Initiatives are needed to encourage more students, especially females and rural students, to go into STEM fields. In this project, e-textile activities were designed by a senior level undergraduate textile design class to engage female middle-school students in STEM learning. E-textile activities have the potential to increase enjoyment of and interest in STEM activities, taking STEM courses, consideration of STEM careers, and confidence in STEM ability.
Collections