Male Consumers' Socially Responsible Consumption by Product Category and Involvement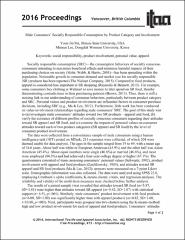 Series
International Textile and Apparel Association (ITAA) Annual Conference Proceedings
The first national meeting of textile and clothing professors took place in Madison, Wisconsin in June 1959. With a mission to advance excellence in education, scholarship and innovation, and their global applications, the International Textile and Apparel Association (ITAA) is a professional and educational association of scholars, educators, and students in the textile, apparel, and merchandising disciplines in higher education.
This site provides free, public access to the ITAA annual conference proceedings beginning in 2015. Previous proceedings can be found by following the "Additional ITAA Proceedings" link on the left sidebar of this page.
Abstract
The goal of this study was to (a) investigate male consumers' attitudes toward two SR products' apparel and food, (b) verify the existence of different profiles of socially conscious consumers regarding their attitudes toward SR apparel and SR food, and (c) examine the impacts of personal values on consumer attitudes toward each of two product categories (SR apparel and SR food) by the level of consumer product involvement. The data were collected from a convenience sample of male consumers using a human intelligence task (HIT) posted on MTurk. The findings suggested that those who place more importance on apparel products are likely to have more favorable attitudes toward SR apparel products than those who care less, and similarly for food products. Different personal value types that influence consumer attitudes toward SR apparel and SR food were identified by the level of product involvement.
Subject Categories
Collections