An Embedded Ultrasonic Wire Waveguide Sensor for In-Process Cure and In-Service Dynamic Response Monitoring of Liquid Molded Composite Parts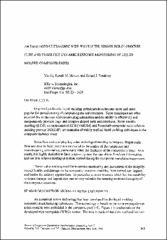 Series
Review of Progress in Quantitative Nondestructive Evaluation
Begun in 1973, the Review of Progress in Quantitative Nondestructive Evaluation (QNDE) is the premier international NDE meeting designed to provide an interface between research and early engineering through the presentation of current ideas and results focused on facilitating a rapid transfer to engineering development.
This site provides free, public access to papers presented at the annual QNDE conference between 1983 and 1999, and abstracts for papers presented at the conference since 2001.
Abstract
Over the last decade, liquid molding techniques have become more and more popular for manufacturing of composite parts and structures. These techniques are often selected due to the ease of manufacturing automation and the ability to effectively and inexpensively produce large and complex shaped parts and structures. Resin transfer molding (RTM), vacuum assisted RTM (VARTM) and Seemann's composite resin infusion molding process (SCRIMP) are examples of widely applied liquid molding techniques in the composite industry today.
Copyright
Thu Jan 01 00:00:00 UTC 1998
Collections