Evaluation of mechanized row cover establishment for cantaloupe and summer squash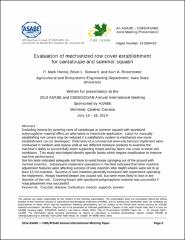 Department
Food Science and Human Nutrition
Center for Crops Utilization Research
Agricultural and Biosystems Engineering
Environmental Science
Sustainable Agriculture
Center for Crops Utilization Research
Abstract
Excluding insects by covering rows of cantaloupe or summer squash with spunbond polypropylene material offers an alternative to insecticide application. Labor for manually establishing row covers may be reduced if a satisfactory system to mechanize row cover establishment can be developed. Field tests of a commercial semi-mechanized implement were conducted in medium and coarse soils at two different moisture contents to examine the machine's ability to successfully insert supporting hoops and lay fabric row cover in these soil conditions. This study also helped identify specific facets which require modification to improve machine performance.
Soil bin tests indicated adequate soil force to resist hoops springing out of the ground with minimal insertion. Subsequent implement operations in the field indicated that other machine adjustment features were affecting success of wire insertion after depth wheels were set to at least 13 cm insertion. Success of wire insertion generally increased with experience operating the implement. Hoops inserted deeper into coarse soil, but were more likely to lean in the direction of the row. Covering hoops with spunbond polypropylene material was successful if hoop placement was successful.
Comments
This proceeding is published as Hanna, H. Mark, Brian L. Steward, and Kurt A. Rosentrater. "Evaluation of mechanized row cover establishment for cantaloupe and summer squash." In 2014 Montreal, Quebec Canada July 13–July 16, 2014, Paper No. Paper number 1894433. American Society of Agricultural and Biological Engineers, 2014. doi: 10.13031/aim.20141894433. Posted with permission.
Subject Categories
Copyright
Wed Jan 01 00:00:00 UTC 2014
Collections