Joint estimation of the flaw size distribution and pod function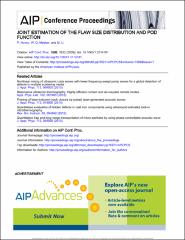 Department
Center for Nondestructive Evaluation
Abstract
Life prediction and inspection interval decisions in aerospace applications require knowledge of the size distribution of unknown existing cracks and the probability of detecting a crack (POD), as a function of crack characteristics (e.g., crack size). The POD for a particular inspection method is usually estimated on the basis of experiments to a given specimen set. These experiments, however, cannot duplicate the conditions of in service inspections. Quantifying the size distribution of unknown existing cracks is more difficult. If reasonably precise crack size information is available for specimens with "crack find" decisions through inspection procedures, it is possible to estimate the joint distribution of crack size and signal response. This joint distribution can then be used to estimate both the in service POD and the crack size distribution. In this paper, we present a statistical model and methodology to do this estimation. We also illustrate the method on one set of simulated data.
Comments
Copyright 2009 American Institute of Physics. This article may be downloaded for personal use only. Any other use requires prior permission of the author and the American Institute of Physics.
This article appeared in AIP Conference Proceedings, 1096 (2009):1832–1839 and may be found at: http://dx.doi.org/10.1063/1.3114181.
Subject Categories
Copyright
Thu Jan 01 00:00:00 UTC 2009
Collections