A Novel Image Processing Algorithm for Enhancing the Probability of Detection of Flaws in X-Ray Images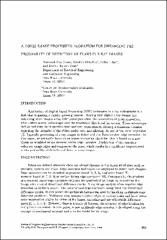 Series
Review of Progress in Quantitative Nondestructive Evaluation
Begun in 1973, the Review of Progress in Quantitative Nondestructive Evaluation (QNDE) is the premier international NDE meeting designed to provide an interface between research and early engineering through the presentation of current ideas and results focused on facilitating a rapid transfer to engineering development.
This site provides free, public access to papers presented at the annual QNDE conference between 1983 and 1999, and abstracts for papers presented at the conference since 2001.
Abstract
Application of Digital Signal Processing (DSP) techniques in x-ray radiography is a field that is gaining a rapidly growing interest. Dealing with digital x-ray images and enhancing these images using DSP techniques allow the automation of x-ray inspection, which offers several advantages over the traditional film-based inspection. These advantages include reducing the inspection time and cost requirements, obtaing a consistent decision regarding the integrity of the object under test, and allowing the use of real-time inspection [1]. Typically processing of x-ray images to detect and size flaws involves edge detection. In this paper, we primarily focus on an image processing algorithm that is based on a new Gaussian weighted image moment vector edge operator. Application of this operator enhances image edges and suppresses the noise, which results in a significant improvement in the probability of detection of flaws in x-ray images.
Copyright
Mon Jan 01 00:00:00 UTC 1996
Collections