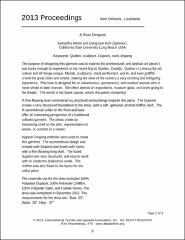 Series
International Textile and Apparel Association (ITAA) Annual Conference Proceedings
The first national meeting of textile and clothing professors took place in Madison, Wisconsin in June 1959. With a mission to advance excellence in education, scholarship and innovation, and their global applications, the International Textile and Apparel Association (ITAA) is a professional and educational association of scholars, educators, and students in the textile, apparel, and merchandising disciplines in higher education.
This site provides free, public access to the ITAA annual conference proceedings beginning in 2015. Previous proceedings can be found by following the "Additional ITAA Proceedings" link on the left sidebar of this page.
Abstract
The purpose of designing this garment was to express the architectural, and abstract art pieces I was lucky enough to experience in my recent trip to Quebec, Canada. Quebec is a mecca for art, culture and all things unique. Murals, sculptures, street performers, words, and even graffiti crowd the great cities and streets, making the view of the scenery a very exciting and intriguing experience. This look is designed for an adventurous, spontaneous, and creative woman who is never afraid to take chances. She often attends art expositions, museum galas, and loves going to the theater. The world is her blank canvas, which she paints constantly!
Subject Categories
Collections