In-Situ Ultrasonic Characterization of Failure Strength of Fiber-Matrix Interface in Metal Matrix Composites Reinforced by SCS Series Fibers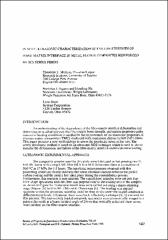 Series
Review of Progress in Quantitative Nondestructive Evaluation
Begun in 1973, the Review of Progress in Quantitative Nondestructive Evaluation (QNDE) is the premier international NDE meeting designed to provide an interface between research and early engineering through the presentation of current ideas and results focused on facilitating a rapid transfer to engineering development.
This site provides free, public access to papers presented at the annual QNDE conference between 1983 and 1999, and abstracts for papers presented at the conference since 2001.
Abstract
An understanding of the dependence of the fiber-matrix interface deformation and debonding on residual stresses, the fiber-matrix bond strength, and matrix properties under transverse loading conditions is needed for the improvement of the transverse properties of titanium matrix composites (TMC) reinforced with continuous silicon carbide (SiC) fibers. This paper presents a new methodology to assess the interfacial stress at fracture. The newly developed method is based on an ultrasonic NDE technique which is used in-situ to monitor the deformation and failure of the fiber-matrix interface under transverse loading.
Copyright
Sun Jan 01 00:00:00 UTC 1995
Collections