"I Quit": Retail Employees' Perceived Corporate Hypocrisy and Their Turnover Intentions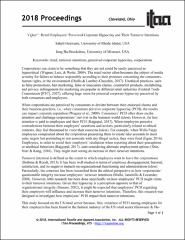 Series
International Textile and Apparel Association (ITAA) Annual Conference Proceedings
The first national meeting of textile and clothing professors took place in Madison, Wisconsin in June 1959. With a mission to advance excellence in education, scholarship and innovation, and their global applications, the International Textile and Apparel Association (ITAA) is a professional and educational association of scholars, educators, and students in the textile, apparel, and merchandising disciplines in higher education.
This site provides free, public access to the ITAA annual conference proceedings beginning in 2015. Previous proceedings can be found by following the "Additional ITAA Proceedings" link on the left sidebar of this page.
Abstract
Corporations could be easily perceived as hypocritical when their business practices deviate from their endorsed claims. When employees perceive corporate hypocrisy (PCH) for their employers, they feel threatened to voice their concerns and start considering alternative employment options, i.e., see an increase in their turnover intentions. However, little is known about how employees' turnover intentions related to their PCH. This study, used a self-reported survey of 520 participants, to investigate how employees' PCH impact their turnover intentions using the US retail population. A significant positive association was observed between participants' PCH and their turnover intentions. Also, participants with high PCH were found to have significantly higher turnover intentions than participants with low PCH. The study findings can help the retail sector, which has the bad reputations of higher turnover rates and lower job commitments, to consider and control employees' PCH to reduce its influence on their turnover intentions. It can help retail management to reshape their workplace to naturally appeal to and retain the millennial generation.
Subject Categories
Collections