The Influence of Calibration and Acceptance Criteria on Crack Detection and Discrimination by Eddy Current Techniques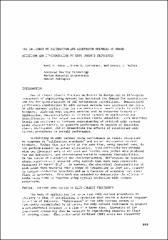 Series
Review of Progress in Quantitative Nondestructive Evaluation
Begun in 1973, the Review of Progress in Quantitative Nondestructive Evaluation (QNDE) is the premier international NDE meeting designed to provide an interface between research and early engineering through the presentation of current ideas and results focused on facilitating a rapid transfer to engineering development.
This site provides free, public access to papers presented at the annual QNDE conference between 1983 and 1999, and abstracts for papers presented at the conference since 2001.
Abstract
Use of linear elastic fracture mechanics in design and in life-cycle management of engineering systems has increased the demand for quantitative NDE and for quantification of NDE performance capabilities. Demonstrated performance capabilities by eddy current methods have increased the focus on eddy current applications for the detection of small cracks in critical hardware. Although eddy current methods have an extensive history of application, characterization of critical factors in application and quantification of the output has received little attention. Work described herein was performed to increase understanding of critical eddy current probe characteristics, to quantify performance in support of detection theory development, and to demonstrate the effects of established eddy current procedures on overall performance.
Copyright
Wed Jan 01 00:00:00 UTC 1986
Collections