Three Dimensional Response of a Cross-Ply Composite Plate with Imperfect Interfaces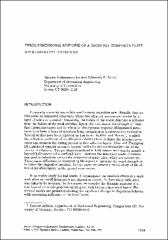 Series
Review of Progress in Quantitative Nondestructive Evaluation
Begun in 1973, the Review of Progress in Quantitative Nondestructive Evaluation (QNDE) is the premier international NDE meeting designed to provide an interface between research and early engineering through the presentation of current ideas and results focused on facilitating a rapid transfer to engineering development.
This site provides free, public access to papers presented at the annual QNDE conference between 1983 and 1999, and abstracts for papers presented at the conference since 2001.
Abstract
Composite materials are widely used in many industries now. Usually, they are fabricated as laminated structures, where two adjacent laminae are bonded by a layer of adhesive material. Frequently, the failure of the whole structure is initiated from the failure of the weak interface layers. For this reason the strength of interface/interphase layers and its effects on the dynamic response of laminated structures have been a focus of attention from researchers in nondestructive evaluation. Several studies have been reported on this topic. Rokhlin and Maron [1] studied the reflection coefficient of an oblique incident wave to evaluate the interface properties and monitor the curing process in thin adhesive layers. Alers and Thompson [2] considered trapped modes in layered media for the nondestructive test of the quality of adhesion. The problems considered in both papers were simple, namely a layered half-space and a sandwich plate. However the structures made of composites used in industries are usually composed of many plies, which are anisotropic. These cause difficulties in interpreting the signals to measure the bond strength or to detect the imperfect interface. In this paper we present a model study of the effect of interface layers on the guided wave modes.
Subject Categories
Copyright
Fri Jan 01 00:00:00 UTC 1993
Collections