Transient Response of a Four-Ply Fiber Composite Laminate to an Internal Line Source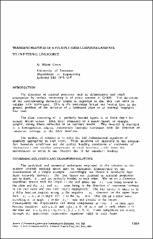 Series
Review of Progress in Quantitative Nondestructive Evaluation
Begun in 1973, the Review of Progress in Quantitative Nondestructive Evaluation (QNDE) is the premier international NDE meeting designed to provide an interface between research and early engineering through the presentation of current ideas and results focused on facilitating a rapid transfer to engineering development.
This site provides free, public access to papers presented at the annual QNDE conference between 1983 and 1999, and abstracts for papers presented at the conference since 2001.
Abstract
The detection of internal processes such as delamination and crack propagation by surface monitoring is of prime concern in QNDE. The derivation of the corresponding theoretical results is important in that they can serve to validate NDE techniques. This is the motivation behind our interest here in the general problem of the response of a laminated plate to an internal impulsive line load.
Copyright
Tue Jan 01 00:00:00 UTC 1991
Collections