Experiment in beef production.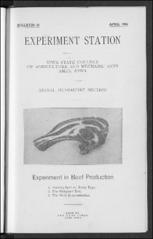 Department
Extension and Experiment Station Publications
Abstract
This bulletin gives the result of a year's feeding test with steers of beef and dairy type; it also includes the slaughter test on the same animals, conducted in January, 1904, and a meat demonstration by Mr. John Gosling. While the results of the slaughter test are properly a part of the experiment, it has been deemed advisable to treat them somewhat distinctly. The data bearing on the differences in feeding and gaining capacity are therefore treated in the first part of the bulletin, and the results of the slaughter test, with Mr. Gosling's explanations, in the latter part.
Subject Categories
Collections