Agronomic and soil quality trends after five years of different tillage and crop rotations across Iowa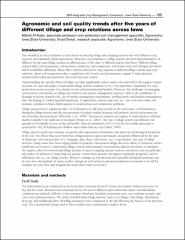 Altmetrics
Series
Proceedings of the Integrated Crop Management Conference
The Iowa State University Integrated Crop Management Conference is Iowa's premier crop production education event. No other program in Iowa brings together the diverse range of topics, slate of expert presenters and results of the latest University research.
The ICM Conference offers workshops focusing on the latest in crop production technology. Experts from Iowa and surrounding states will provide research updates and results in soil fertility, soil and water management, crop production and pest management.
Abstract
The variability in soil conditions is a key factor in selecting tillage and cropping systems that will influence crop response and ultimately yield expectations. However, crop response to tillage systems has been demonstrated to be different for the same tillage systems in different parts of the state or different regions elsewhere. Different tillage systems affect soil temperature, soil moisture conditions, soil compaction, soil productivity, and nitrogen movement and N availability differently. These effects will be reflected in crop response to different tillage systems and crop rotations, where soil temperature plays a significant role in early seed germination, organic N mineralization, nutrient and residue incorporation, and weed and pest control.
Subject Categories
Collections