Korean Fashion Media, Beauty Ideals, and Colorism: Examining the Prominence of Whiteness Between 2013 and 2017 in Ceci Magazine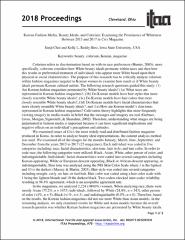 Series
International Textile and Apparel Association (ITAA) Annual Conference Proceedings
The first national meeting of textile and clothing professors took place in Madison, Wisconsin in June 1959. With a mission to advance excellence in education, scholarship and innovation, and their global applications, the International Textile and Apparel Association (ITAA) is a professional and educational association of scholars, educators, and students in the textile, apparel, and merchandising disciplines in higher education.
This site provides free, public access to the ITAA annual conference proceedings beginning in 2015. Previous proceedings can be found by following the "Additional ITAA Proceedings" link on the left sidebar of this page.
Abstract
The purpose of this research was to critically examine fashion magazines targeted to Korean women to examine how much White or European-decent beauty ideals permeate Korean cultural outlets. In order to analyze beauty ideal representations in these fashion magazines, we utilized the content analysis method, and examined the most popular and widely circulated fashion magazine published in Korea, Ceci, from 2013-2017. Each individual pictured in the magazine was coded in five categories including: race, skin tone, hair style, hair color, and facial characteristics. Descriptive statistics, Pearson's chi-square, and independent samples t-tests were utilized to analyze the data. Overall, the magazines had significantly more White- or European-decent beauty ideals throughout the imagery across the entire time period.
Collections