Exploring Theatrical Costume Design in Fashion: an Interdisciplinary Production of Shakespeare's A Midsummer Night's Dream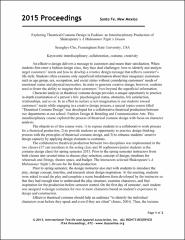 Series
International Textile and Apparel Association (ITAA) Annual Conference Proceedings
The first national meeting of textile and clothing professors took place in Madison, Wisconsin in June 1959. With a mission to advance excellence in education, scholarship and innovation, and their global applications, the International Textile and Apparel Association (ITAA) is a professional and educational association of scholars, educators, and students in the textile, apparel, and merchandising disciplines in higher education.
This site provides free, public access to the ITAA annual conference proceedings beginning in 2015. Previous proceedings can be found by following the "Additional ITAA Proceedings" link on the left sidebar of this page.
Abstract
Character analysis in theatrical costume design provides a unique opportunity to practice in-depth examination of a person's life: psychological status, obstacles, life satisfaction, relationships, and so on. In an effort to nurture a rich imagination in our students toward customers' needs while engaging in a creative design process, a special topics course titled "Theatrical Costume Design" was developed for a collaborative theatrical production between two departments at our school: Fashion Design & Retailing and Communication Arts. This interdisciplinary course explored the process of theatrical costume design with focus on character analysis.
Collections