Noncontacting Measurement of Surface Acoustic Waves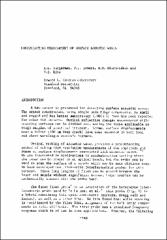 Series
Review of Progress in Quantitative Nondestructive Evaluation
Begun in 1973, the Review of Progress in Quantitative Nondestructive Evaluation (QNDE) is the premier international NDE meeting designed to provide an interface between research and early engineering through the presentation of current ideas and results focused on facilitating a rapid transfer to engineering development.
This site provides free, public access to papers presented at the annual QNDE conference between 1983 and 1999, and abstracts for papers presented at the conference since 2001.
Abstract
A new sensor is presented for detecting surface acoustic waves. The sensor constructed, using single mode fiber components, is small and rugged and has better sensitivity (.0003 Å) than has been reported for other SAW sensors. Optical reflection changes encountered while scanning surfaces can be divided out, making the probe applicable to rough samples of practical interest. Normal surface displacements near a defect (100 μm deep crack) have been measured in both long and short wavelength acoustic regimes.
Subject Categories
Copyright
Sat Jan 01 00:00:00 UTC 1983
Collections