Effect of pre-exercise ingestion of modified amylomaize starch on endurance performance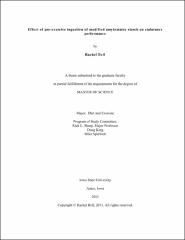 Altmetrics
Abstract
If exercise is initiated when insulin remains elevated from a pre-exercise meal, some individuals may experience a brief period of hypoglycemia 15-30 min into exercise. Rebound hypoglycemia is a consequence of increased glucose uptake by skeletal muscle and suppressed hepatic glucose production. The impact of pre-exercise carbohydrate ingestion on endurance exercise performance remains unclear. Amylomaize-7, a type of high amylose corn starch, evokes a smaller insulin response than dextrose and therefore could be a better pre-exercise carbohydrate. The purposes of this study were to 1) use a strategically timed high intensity cycling trial to detect possible performance impairment caused by a carbohydrate preload, and 2) compare metabolic response and exercise performance when amylomaize-7 versus dextrose is consumed in the hour before exercise.
Ten trained cyclists (VO2max of 64.6 y 1.8 ml/kg/min) were given 1 g/kg body mass of either dextrose or amylomaize-7 or a sugar-free flavored water placebo 45 min prior to exercise on a cycle ergometer. A 15 min ride at 60% Wmax was immediately followed by a self-paced time trial with a workload equivalent to 15 min at 80% Wmax (264 y 12 KJ).
Time required to complete the performance trial was not significantly different between treatments (p = 0.209). In the dextrose trial, serum glucose concentrations increased from 5.8 y 0.1 mM to 9.1 y 0.6 mM before exercise. By the end of the TT, glucose had decreased to 5.5 y 0.4 mM - significantly lower than placebo and starch (p < 0.05). The insulin concentration was also significantly elevated at pre-exercise, but was no different than placebo by the start of the TT. Serum insulin and glucose concentrations for the starch trial were the same as placebo for all time points. Affect scale ratings, RPE, and questionnaire responses did not reveal significant differences between treatments. In conclusion, pre-exercise ingestion of amylomaize-7 instead of dextrose results in more stable serum glucose and insulin concentrations, but does not offer an additional performance advantage.
Subject Categories
Copyright
Sat Jan 01 00:00:00 UTC 2011
Collections