The Characterization of Surface Defects Using Rayleigh Wave Hodographs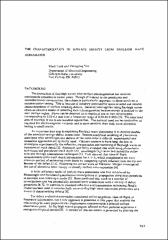 Series
Review of Progress in Quantitative Nondestructive Evaluation
Begun in 1973, the Review of Progress in Quantitative Nondestructive Evaluation (QNDE) is the premier international NDE meeting designed to provide an interface between research and early engineering through the presentation of current ideas and results focused on facilitating a rapid transfer to engineering development.
This site provides free, public access to papers presented at the annual QNDE conference between 1983 and 1999, and abstracts for papers presented at the conference since 2001.
Abstract
The interaction of Rayleigh waves with surface inhomogeneities has received considerable attention in recent years. Though of interest to the geophysics and microelectronics communities, the subject is particularly important to those involved in nondestructive testing. This is because of industry demands for more detailed and reliable characterizations of surface-breaking defects. Material interrogation using Rayleigh waves offers an effective means of detecting such inhomogeneities because energy is confined to the near-surface region. Flaws can be detected up to depths of one or two wavelengths, corresponding to 0.31–6.1 mm over a frequency range of 0.50–10.0 MHz [1]. The associated area of coverage is ten to one hundred square feet. The material need not be conductive, as required for electromagnetic methods, and is more sensitive than bulk wave ultrasonic testing to small cracks.
Copyright
Sun Jan 01 00:00:00 UTC 1989
Collections