Sooty blotch and flyspeck: Taxonomy, ecology, and management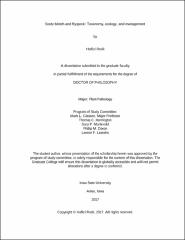 Department
Plant Pathology and Microbiology
Abstract
Sooty blotch and flyspeck (SBFS), a fungal disease of apple and other fruit crops, has been studied for 185 years because it can cause significant economic losses for growers. In recent years, with the deployment of phylogenetic analysis to complement morphological observation, many cryptic species of SBFS fungi have been discovered. For example, although the genus Peltaster has only two species, P. fructicola and P. cerophilus, potentially this cryptic genus has more undescribed species. Most commercial apple growers in the eastern half of the U.S. manage SBFS with fungicide sprays applied on a calendar-timed basis, spraying every 7 to 14 days from shortly after bloom until harvest. However, relatively little attention has been paid to understanding the ecology and epidemiology of SBFS. Therefore, further studies on SBFS are important for a better understanding of this disease complex, and to develop more effective and environmentally rational SBFS management approaches.
A laboratory experiment was conducted on 42 Peltaster isolates from Dr. Mark Gleason's collection at Iowa State University to clarify species identifications based on morphology and DNA sequences. Phylogenetic analysis based on the internal transcribed spacer region of rDNA, the partial translation elongation factor 1-α gene, and the partial mitochondrial small subunit rDNA gene demonstrated that a group of Peltaster isolates from the U.S. had different DNA profiles from previously described P. fructicola and P. cerophilus. Observations of colony morphology using light and electron microscopy supported the distinction noted from the phylogenetic analysis. The newly recognized group produces conidiophores bearing primary conidia that produce secondary conidia either through budding or undergo microcyclic conidiation; these characteristics were not seen in P. cerophilus or P. fructicola. A new species, P. gemmifer, was delineated.
Two field experiments were conducted. The first experiment focused on validation of a SBFS warning system in an Iowa apple orchard from 2013 to 2015. The objectives were to evaluate the performance of a previously proposed SBFS warning system, assess the economic benefits of the warning system, and compare efficacy of conventional and reduced-risk fungicides in controlling SBFS when using the warning system. The proposed relative humidity-based warning system required 2.7 fewer fungicide sprays per season than traditional calendar-based spray timing. A partial budget analysis indicated that the warning system was more cost-efficient than the calendar-based spray system for orchards >1 ha in size, and conventional and reduced-risk fungicides provided equivalent SBFS control when used with the warning system.
A second field experiment was conducted in an Iowa apple orchard in 2015 and 2016 to compare the effect of wetness on dissemination of three SBFS species. Overhead irrigation was installed in the field and three daily irrigation regimes were imposed – low (3 h), medium (6 h), or high (12 h). Results demonstrated that dissemination of Peltaster sp. increased rapidly in proportion to increased precipitation, whereas Stomiopeltis sp. and Microcyclosporella sp. did not show a consistent increase. This study was the first to reveal species-specific differences in dissemination of SBFS.
A fourth objective was to develop a case study on SBFS management for undergraduate students. The case study was developed to enable students to take an active-learning, problem-solving approach to understanding how to solve the SBFS management problems of a fictional apple grower in Iowa. The SBFS waning system proposed in the dissertation was also incorporated in the case study as one of the options for management. The case study was tested with students in two Iowa State University undergraduate courses, and the feedback obtained from the students was used to improve the case study.
Subject Categories
Copyright
Sun Jan 01 00:00:00 UTC 2017
Collections