An Annular Array MPT for Enhanced Generation of Omnidirectional SH Waves in a Plate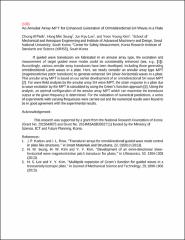 Series
Review of Progress in Quantitative Nondestructive Evaluation
Begun in 1973, the Review of Progress in Quantitative Nondestructive Evaluation (QNDE) is the premier international NDE meeting designed to provide an interface between research and early engineering through the presentation of current ideas and results focused on facilitating a rapid transfer to engineering development.
This site provides free, public access to papers presented at the annual QNDE conference between 1983 and 1999, and abstracts for papers presented at the conference since 2001.
Abstract
If guided wave transducers are fabricated in an annular array type, the excitation and measurement of target guided wave modes could be considerably enhanced (see, e.g., [1]). Accordingly, various annular array transducers have been developed, including those generating omnidirectional Lamb waves in a plate. Here, we newly consider an annular array type MPT (magnetostrictive patch transducer) to generate enhanced SH (shear-horizontal) waves in a plate. This annular array MPT is based on our earlier development of an omnidirectional SH wave MPT [2]. For wave field analysis by the annular array SH wave MPT, the strain response in a plate due to wave excitation by the MPT is calculated by using the Green's function approach [3]. Using the analysis, an optimal configuration of the annular array MPT which can maximize the transducer output at the given frequency is determined. For the validation of numerical predictions, a series of experiments with varying frequencies were carried out and the numerical results were found to be in good agreement with the experimental results.
Collections