Carbon dioxide production in soils and carbon and nitrogen changes in soils variously treated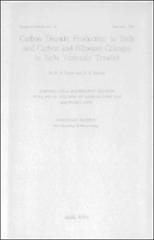 Journal Issue
Department
Extension and Experiment Station Publications
Abstract
The carbon dioxide of the soil atmosphere, along with the water, has long been recognized as the most active agent in the decomposition of comparatively inert minerals to give available and soluble plant food material. It is probable that herein lies the great benefit which comes from the application to soil of organic material which not only increases the energy material easily available for the bacteria, but also improves the physical condition of the soil. This in turn increases bacterial activity, which gives rise to increased carbon dioxide production.
At the Iowa Agricultural Experiment Station, for some time past, both in the laboratory and in the field, determinations have been made of the carbon dioxide of the soil atmosphere or of the carbon dioxide evolved by soils. These experiments have been carried out with the primary object of obtaining information as to the rate of decomposition of the soil or of organic matter added to the soil, under various conditions and treatments.
In this paper attention will be confined mainly to the production of carbon dioxide by soils and its measurement. Little will be said concerning its effectiveness as an agent for rendering plant foods available.
Subject Categories
Collections