Computational modeling of micro-crack induced attenuation in CFRP composites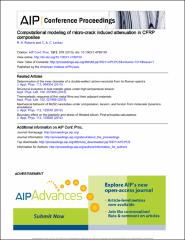 Department
Center for Nondestructive Evaluation
Abstract
A computational study is performed to determine the contribution to ultrasound attenuation in carbon fiber reinforced polymer composite laminates of linear elastic scattering by matrix micro-cracking. Multiple scattering approximations are benchmarked against exact computational approaches. Results support linear scattering as the source of observed increased attenuation in the presence of micro-cracking.
Comments
Copyright 2013 American Institute of Physics. This article may be downloaded for personal use only. Any other use requires prior permission of the author and the American Institute of Physics.
This article appeared in AIP Conference Proceedings 1511 (2012): 979–986 and may be found at http://dx.doi.org/10.1063/1.4789150.
Subject Categories
Copyright
Tue Jan 01 00:00:00 UTC 2013
Collections