Modeling Ultrasonic Beam Propagation in Graphite Composites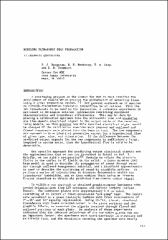 Series
Review of Progress in Quantitative Nondestructive Evaluation
Begun in 1973, the Review of Progress in Quantitative Nondestructive Evaluation (QNDE) is the premier international NDE meeting designed to provide an interface between research and early engineering through the presentation of current ideas and results focused on facilitating a rapid transfer to engineering development.
This site provides free, public access to papers presented at the annual QNDE conference between 1983 and 1999, and abstracts for papers presented at the conference since 2001.
Abstract
A continuing project at the Center for NDE in Ames involves the development of models which predict the probability of detecting flaws using a given inspection system.[1] Our general approach as it applies to through-transmission immersion inspections is as follows. With the two transducers to be used in the inspection, a reference experiment is performed to determine relevant information concerning equipment characteristics and transducer efficiencies. This may be done by placing a calibration specimen into the ultrasonic beam and measuring the time-domain electrical signal in the output cable of the receiver. Using models, we then predict how this received electrical signal would be changed if the calibration specimen were removed and unflawed and flawed components were placed into the beam in turn. The two components are assumed to have identical geometries except for a hypothetical flaw of given type, size, and orientation. If the difference between the predicted output signals for the two components is sufficiently large, compared to system noise, then the hypothetical flaw is said to be detectable.
Subject Categories
Copyright
Sun Jan 01 00:00:00 UTC 1989
Collections