New Approaches to Ultrasonic Flaw Classification Using Signal Processing, Modeling, and Artificial Intelligence Concepts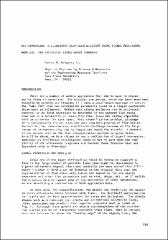 Series
Review of Progress in Quantitative Nondestructive Evaluation
Begun in 1973, the Review of Progress in Quantitative Nondestructive Evaluation (QNDE) is the premier international NDE meeting designed to provide an interface between research and early engineering through the presentation of current ideas and results focused on facilitating a rapid transfer to engineering development.
This site provides free, public access to papers presented at the annual QNDE conference between 1983 and 1999, and abstracts for papers presented at the conference since 2001.
Abstract
There are a number of modern approaches that can be used to characterize flaws in materials. For example, one method, which has been described recently by Wormley and Thompson [1], uses a model-based approach to obtain the "best fit" size and orientation parameters based on a simple equivalent shape such as ellipsoid. Before such sizing estimates can be activated, however, it is first necessary to determine if the unknown flaw being examined is a volumetric or crack-like flaw, since the sizing algorithm will be different for each case. This classification problem, although it is conceptually simpler than the more complete problem of flaw characterization, is, nevertheless, a difficult challenge because of the large number of parameters that can influence the resulting signals. A summary of our recent work on the flaw classification problem is given below. As will be shown, we have chosen to use a combination of signal processing, modeling and artificial intelligence tools to try to pare down the complexity of the ultrasonic responses and isolate those features that are dependent only on flaw-type.
Copyright
Wed Jan 01 00:00:00 UTC 1986
Collections