The Three Rs: Reclaim, Reuse . . . Really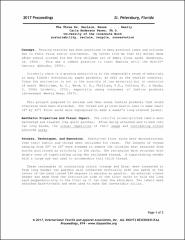 Series
International Textile and Apparel Association (ITAA) Annual Conference Proceedings
The first national meeting of textile and clothing professors took place in Madison, Wisconsin in June 1959. With a mission to advance excellence in education, scholarship and innovation, and their global applications, the International Textile and Apparel Association (ITAA) is a professional and educational association of scholars, educators, and students in the textile, apparel, and merchandising disciplines in higher education.
This site provides free, public access to the ITAA annual conference proceedings beginning in 2015. Previous proceedings can be found by following the "Additional ITAA Proceedings" link on the left sidebar of this page.
Abstract
The Three Rs: Reclaim, Reuse . . . Really Concept. Reusing textiles has practiced because of their value and/or scarcity. Today the motivation is for waste reduction. This project reclaimed/reused textile products that would have been discarded. Thread and muslin reclaimed from flour sacks were repurposed into a jacket. Aesthetic Properties and Visual Impact. Contrasting-color labels were harvested and treated like patches. Visual repetition of shape and colors achieved unity. Process, Techniques, and Execution. Sacks were deconstructed; these rectangles were topstitched into bands. The jacket was connected using topstitching. The jacket's canvas base was adorned with the vertical flour-sack bands emulating suspenders. The convertible collar, comprised of two sacks, is faced with muslin. Cohesion. New textiles commensurate in colors and textures were combined with the reclaimed. Together they were redefined. Design Contribution. This design illustrate true recycling by reclaiming then reusing textile entities that would otherwise have been discarded.
Collections