Self-Identity, Ethical Obligation, and Fair Trade Consumption Among Consumers in an Emerging Fair-Trade Market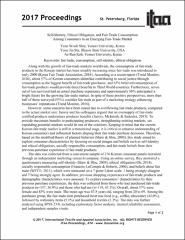 Series
International Textile and Apparel Association (ITAA) Annual Conference Proceedings
The first national meeting of textile and clothing professors took place in Madison, Wisconsin in June 1959. With a mission to advance excellence in education, scholarship and innovation, and their global applications, the International Textile and Apparel Association (ITAA) is a professional and educational association of scholars, educators, and students in the textile, apparel, and merchandising disciplines in higher education.
This site provides free, public access to the ITAA annual conference proceedings beginning in 2015. Previous proceedings can be found by following the "Additional ITAA Proceedings" link on the left sidebar of this page.
Abstract
Based on the modified theory of planned behavior, this study aimed to explore consumer characteristics by focusing on social images and beliefs such as self-identity and ethical obligations, socially responsible consumption, and fair-trade beliefs from their previous purchase experience of fair-trade products. The data was collected from a convenient sample of 276 Korean consumer panels recruited through an independent marketing research company. There were significant differences in self-identification, ethical obligation, beliefs about fair practice, and socially responsible consumption behaviors, particularly on supporting responsible and cause-related products, purchasing local products, and helping small businesses, between fair-trade products purchasers and non-purchasers.
Subject Categories
Collections