Propagation of Guided Elastic Waves in Orthotropic Plates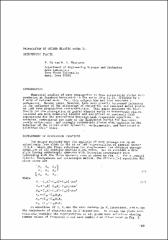 Series
Review of Progress in Quantitative Nondestructive Evaluation
Begun in 1973, the Review of Progress in Quantitative Nondestructive Evaluation (QNDE) is the premier international NDE meeting designed to provide an interface between research and early engineering through the presentation of current ideas and results focused on facilitating a rapid transfer to engineering development.
This site provides free, public access to papers presented at the annual QNDE conference between 1983 and 1999, and abstracts for papers presented at the conference since 2001.
Abstract
Numerical studies of wave propagation in free anisotropic plates were conducted at Stanford University in the early 70's [1,2], followed by a flurry of related work. Yet, this subject has not been completely understood. Recent years, however, have seen greatly increased interests in the influence of the anisotropy of composites and textured metal plates on Lamb wave propagation characteristics. This paper presents the basic theory for the propagation of guided elastic waves in orthotropic plates. Included are both numerical results and analytical or semianalytical expressions for the generalized Rayleigh-Lamb dispersion equations. As examples, comparisons are made of the dispersion curves for isotropic, weakly orthotropic, and strongly orthotropic plates with emphasis on the behavior of the zeroth order symmetric, antisymmetric, and horizontally polarized sheer modes.
Subject Categories
Copyright
Sun Jan 01 00:00:00 UTC 1989
Collections