Reflection Coefficients for Defective Diffusion Bonds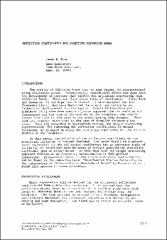 Series
Review of Progress in Quantitative Nondestructive Evaluation
Begun in 1973, the Review of Progress in Quantitative Nondestructive Evaluation (QNDE) is the premier international NDE meeting designed to provide an interface between research and early engineering through the presentation of current ideas and results focused on facilitating a rapid transfer to engineering development.
This site provides free, public access to papers presented at the annual QNDE conference between 1983 and 1999, and abstracts for papers presented at the conference since 2001.
Abstract
The quality of diffusion bonds can, to some degree, be characterized using ultrasonic probes. Consequently, considerable effort has gone into the development of theories that predict the ultrasonic scattering from defective bonds. There are three major lines of development. First Baik and Thompson [1] and Angel and Achenbach [2] have examined the low frequency limit; they have described the elastic scattering by an "effective" spring-model in this regime. Second Sotiropolous and Achenbach [3,4] have developed a rigorous approach that is valid at all frequencies for the case of microcracks at the bondplane; the crucial theoretical tool in this case is the crack opening displacement. Their work is, however, restricted to the case of normally incident plane waves. Rose [5] presented an approximate method, the single scattering approximation, for computing the reflection coefficients at normal incidence; it is based on using the scattering amplitudes for the various defects at the bondplane.
Copyright
Mon Jan 01 00:00:00 UTC 1990
Collections