Effect of composition on the magnetic and elastic properties of shapememory Ni-Mn-Ga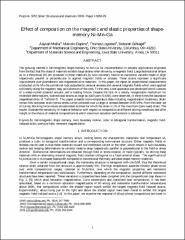 File
Abstract
The growing interest in ferromagnetic shape-memory Ni-Mn-Ga for implementation in actuator applications originates from the fact that this class of materials exhibits large strains when driven by a magnetic field. Large bidirectional strains up to a theoretical 6% are produced in these materials by twin boundary motion as martensite variants rotate to align respectively parallel or perpendicular to applied magnetic fields or stresses. These strains represent a significant improvement over piezoelectric and magnetostrictive materials. In this paper, we report on experimental measurements conducted on Ni-Mn-Ga cylindrical rods subjected to uniaxial stresses and uniaxial magnetic fields which were applied collinearly along the magnetic easy axis direction of the rods. To this end, a test apparatus was developed which consists of a water-cooled solenoid actuator and a loading fixture. Despite the lack of a readily recognizable mechanism for reversible deformations, bidirectional strains as large as 4300 ppm (0.43%) were observed, or three times the saturation magnetostriction of Terfenol-D. This paper presents room-temperature data including magnetization hysteresis, strain versus field and peak strain versus stress curves collected over a range of stresses between 0-65 MPa. From the latter set of curves, blocking force values are estimated as those for which the strain is 1% of the maximum (zero-load) strain. The results illustrate the sensitivity of material behavior with respect to composition at different driving conditions and offer insight on the choice of material compositions at which maximum actuation performance is achieved.
Comments
Proc. SPIE 5053, Smart Structures and Materials 2003: Active Materials: Behavior and Mechanics, 147 (August 12, 2003); doi:10.1117/12.484359
Copyright 2003 Society of Photo Optical Instrumentation Engineers. One print or electronic copy may be made for personal use only. Systematic reproduction and distribution, duplication of any material in this paper for a fee or for commercial purposes, or modification of the content of the paper are prohibited.
http://dx.doi.org/10.1117/12.484359
Subject Categories
Copyright
Wed Jan 01 00:00:00 UTC 2003
Collections