Eddy Current Evaluation of Porous Magnesium Alloy Casting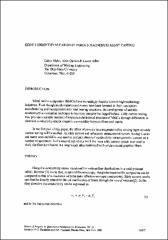 Series
Review of Progress in Quantitative Nondestructive Evaluation
Begun in 1973, the Review of Progress in Quantitative Nondestructive Evaluation (QNDE) is the premier international NDE meeting designed to provide an interface between research and early engineering through the presentation of current ideas and results focused on facilitating a rapid transfer to engineering development.
This site provides free, public access to papers presented at the annual QNDE conference between 1983 and 1999, and abstracts for papers presented at the conference since 2001.
Abstract
Metal matrix composites (MMCs) have increasingly found a home in high technology industries. Even though much research and money have been invested in their conception, manufacturing and incorporation into load bearing structures, the development of suitable nondestructive evaluation technique to test their integrity has lagged behind. Eddy current testing may provide a suitable method of inspection the internal structure of MMCs through differences in electrical conductivity and/or magnetic permeability between fibers and matrix.
Subject Categories
Copyright
Fri Jan 01 00:00:00 UTC 1993
Collections