Decision-making by nematodes in complex microfluidic mazes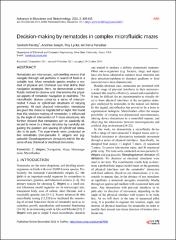 Supplemental Files
Publisher
Scientific Research Publishing Inc.
Department
Electrical and Computer Engineering
Abstract
Nematodes are microscopic, soil-dwelling worms that navigate through soil particles in search of food or a suitable host. Most nematode species employ a myriad of physical and chemical cues that define their navigation strategies. Here, we demonstrate a microfluidic method to observe and characterize the physical aspects of nematode navigation at real-time. The microfluidic devices comprise a series of interconnected T-maze or cylindrical structures of varying geometry. At each physical intersection, nematodes are given the choice to migrate left or right. We found that this decision-making of nematodes is influenced by the angle of intersection of T-maze structures. We further showed that nematodes can be passively directed to move in a linear direction by carefully adjusting the position and spacing of cylindrical obstacles in its path. The experiments were conducted on two nematodes (non-parasitic C. elegans and pigparasitic Oesophagostomum dentatum) and in the absence of any chemical or electrical stimulants.
Comments
This article is published as Santosh, Pandey, Joseph Andrew, Lycke Roy, and Parashar Archana. "Decision-making by nematodes in complex microfluidic mazes." Advances in Bioscience and Biotechnology 2, no. 6 (2011): 409-415. DOI: 10.4236/abb.2011.26060. Copyright 2011 SciRes. Posted with permission.
Collections