What Explains Small- and Medium-sized Apparel Retailers' International Market Involvement? An Application of the Uppsala Model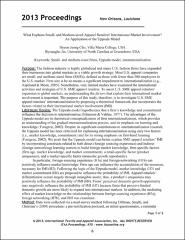 Series
International Textile and Apparel Association (ITAA) Annual Conference Proceedings
The first national meeting of textile and clothing professors took place in Madison, Wisconsin in June 1959. With a mission to advance excellence in education, scholarship and innovation, and their global applications, the International Textile and Apparel Association (ITAA) is a professional and educational association of scholars, educators, and students in the textile, apparel, and merchandising disciplines in higher education.
This site provides free, public access to the ITAA annual conference proceedings beginning in 2015. Previous proceedings can be found by following the "Additional ITAA Proceedings" link on the left sidebar of this page.
Abstract
The fashion industry is highly globalized and many U.S. fashion firms have expanded their businesses into global markets as a viable growth strategy. Most U.S. apparel companies are small- and medium-sized firms (SMEs), defined as those with fewer than 500 employees in the U.S. market. Firm size is by no means a significant impediment to internationalization (e.g., Aspelund & Moen, 2005). Nonetheless, very limited studies have examined the international activities and strategies of U.S. SME apparel retailers. To assist U.S. SME apparel retailers' expansion to global markets, an understanding the factors that explain their international market involvement is important. The purpose of this study, therefore, is to investigate U.S. SME apparel retailers' internationalization by proposing a theoretical framework that incorporates the factors related to their international market involvement (IMI).
Subject Categories
Collections