Noncontact Temperature Measurements of Hot Steel Bodies Using an Electromagnetic Acoustic Transducer (EMAT)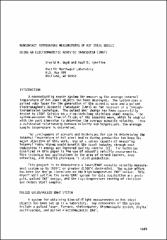 Series
Review of Progress in Quantitative Nondestructive Evaluation
Begun in 1973, the Review of Progress in Quantitative Nondestructive Evaluation (QNDE) is the premier international NDE meeting designed to provide an interface between research and early engineering through the presentation of current ideas and results focused on facilitating a rapid transfer to engineering development.
This site provides free, public access to papers presented at the annual QNDE conference between 1983 and 1999, and abstracts for papers presented at the conference since 2001.
Abstract
A noncontacting sensor system for measuring the average internal temperature of hot steel objects has been developed. The system uses a pulsed ruby laser for the generation of the acoustic wave and a pulsed Electromagnetic Acoustic Transducer (EMAT) as the receiver in a through-transmission technique. The pulsed EMAT design has been successfully tested to 1300° Celsius on a nine-inch-long stainless steel sample. The system measures the time-of-flight of the acoustic wave, which is coupled with the part dimension to determine the average acoustic velocity. From a calibrated relationship between velocity and temperature, the average sample temperature is determined.
Subject Categories
Copyright
Fri Jan 01 00:00:00 UTC 1988
Collections