Assessment of genetic diversity and recombination in maize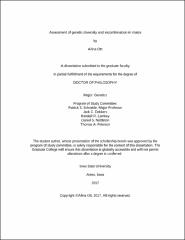 Altmetrics
Abstract
Sequencing has revolutionized our approaches to understanding diversity and assessing biological questions. Multiple sequencing methods have been developed to catalog the genetic diversity of maize. The large size of the maize genome has made reduced representation sequencing an efficient approach to cataloging the diversity of maize. To assess diversity, tGBS, a reduced representation sequencing method, was developed to accurately genotype homozygous and heterozygous loci in a flexible manner in contrast to currently available methods. tGBS provides genotyping accuracies of > 97% estimated from multiple maize populations, even at heterozygous loci.
However, whole-genome sequencing and de novo genome assembly provide improved detection of certain forms of genetic variation, such as structural variation, at increased cost. Linked read sequencing, which incorporates long molecule information, has the potential to provide variant calls via efficient genome assembly. To test the use of linked read sequencing for structural variant discovery and reference genome assembly, de novo genome assembly with the linked read strategy was assessed in a maize inbred line. An assembly with ~120k contigs covering 50% of the genome was developed, and the assessed accuracy was determined to be high. Repeat content remains a challenge in maize linked read assembly, but appears to contain patterns that may be resolved using further computational developments.
In addition to cataloging diversity, the process of recombination that generates and distributes variants must be understood. To better understand the distribution of recombination in genes which may generate new haplotypes or novel alleles, reduced representation sequencing was performed to identify thousands of crossovers and gene conversions. Intragenic recombination was shown to generate transgressive expression patterns. While intragenic crossovers localize to the 5' ends of genes, gene conversions exhibit a random distribution. Furthermore, recombination is enriched in genomic regions with high levels of synteny, which may be a cause or a consequence of the maintenance of synteny.
Subject Categories
Copyright
Sun Jan 01 00:00:00 UTC 2017
Collections